The Untitled Magazine and Active Ideas Productions invite you to
Feminism & The 4th Wave: A Panel Discussion Exploring Feminism Today

THURSDAY OCTOBER 29TH
6-9pm
The Untitled Space
45 Lispenard Street Unit 1W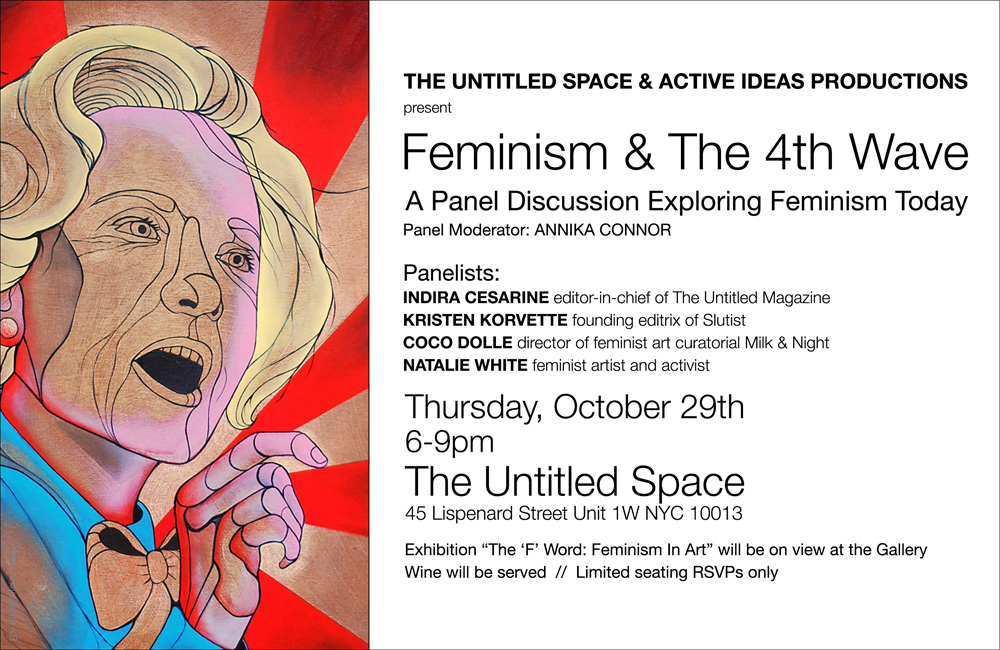 The rise of social media and the interconnected voice calling for social change has been a staple of our recent times. No one can debate the fact that the last ten years have given a united platform to those seeking improvements in civil and gay rights, yet many have seen feminism and equality for women take a back seat. Many women today are challenging the fear of feminism and effectively issuing in a new era of "4th Wave Feminism" also known as "Millennial Feminism."
It has been said that we are currently in the throes of the feminism's fourth wave, but what does that mean? How has feminism changed over the years? What are the defining factors of the 4th Wave of feminism, and how can artists and the media work together to strengthen this movement to create change in our communities?
Please join us on Thursday October 29th for a thought provoking discussion at The Untitled Space as we explore these ideas with Panel Moderator Annika Connor.
PANELISTS:
INDIRA CESARINE editor-in-chief of The Untitled Magazine
COCO DOLLE director of feminist art curatorial Milk & Night
KRISTEN KORVETTE founding editrix of Slutist
NATALIE WHITE feminist artist and activist
A lively question and answer session will follow the discourse and audience members are invited to stay afterwards to view "The 'F' Word: Feminism in Art" the current exhibition on view at The Untitled Space which features the work of 20 female artists.
RSVP ESSENTIAL – click HERE to confirm your seat.
PANELISTS BIOS:

Indira Cesarine
Indira Cesarine is a multimedia artist, photographer, director, and the editor-in-chief of The Untitled Magazine. After completion of a triple major in Art History, French and Women's Studies from Columbia University, she focused her work on using contemporary fashion and beauty photography as a means to address gender stereotypes and male domination in commercial media. As a photographer, she confronts the "male gaze" by presenting empowered images of women that encapsulate strength, sensitivity and intelligence. Over the past twenty years, her work has been published in hundreds of international magazines, including Vogue, Glamour, Marie Claire, Cosmopolitan and Harper's Bazaar. She has been cited as "one of the most talented photographers working today," by Digital Photography Pro Magazine. Her work as a director has included music videos, documentary shorts, fashion and video art films.
In 2009, she began self-publishing her work in order to maintain a stronger personal vision and explore her work in greater depth. She subsequently launched publishing company Untitled Media, and it's first title, multimedia publication XXXX Magazine, "The Untitled Magazine" which was comprised predominately of original short films. In 2011 she launched the globally distributed print publication,The Untitled Magazine of which she is currently editor-in-chief. The publication is distributed in print to over 30 countries as well as available as an app and online. Her work has been exhibited internationally at many art galleries, museums and festivals, including The Metropolitan Museum of Art, Getty Images Gallery, San Diego Museum of Contemporary Art, French Embassy Cultural Center, Cannes Film festival and the International Festival Photo Mode to name a few. In 2014, her public art sculpture, "The Egg of Light" was exhibited at Rockefeller Center. Cesarine lives and works in Tribeca, New York.
Coco Dolle
Coco Dolle is an artist and curator living in Brooklyn, New York. Her performances, prints and paintings explore the perception of the feminine in pop culture. She works with themes of ancient myths and interpretative dance, channeling concepts of worship, leadership, identity and history. She is the founder of the performance collective Legacy Fatale and the director of Milk and Night, a feminist curatorial.
Her work has been featured in ArtForum, The New York Times, The Brooklyn Rail, the Wild Magazine, BlackBook and The New York Observer, among other publications, and at venues such as Tanya Bonakdar Gallery, Deitch Projects, The Hole Gallery, The Whitney Museum of American Art and The Berkeley Museum.
Kristen Korvette
Kristen Corvette is a lecturer at The New School and the founding editor of Slutist, a sex positive feminist site that aims to uncover and undress the intersections between sex, gender, sexuality and feminism in art, entertainment, and politics. Glamour UK called Slutist, "seriously smart" and BUST described the site as "the perfect combo of sex, pop culture and feminism." Korvette is also an independent curator, and previously served as Gallery Officer for Japan Society Gallery, overseeing eight major exhibitions, including 2011's Bye Bye Kitty!!!, winner of the U.S. Art Critics Association Award for Best Show in a Non-Profit Gallery.
Natalie White
Artist Natalie White got her start at seventeen years old after being discovered at a New York City nightclub by legendary photographer Peter Beard, who was 75 at the time. "I grew up in the Bible Belt in West Virginia," she explained. "At 16 I just wanted to break free." She quickly became one of Beard's muses, which led to posing for numerous contemporary artists and photographers including Michael Dweck, Jan Frank, Olivier Zahm and Sean Lennon. As an artist, she explores her own identity through the lens, with giant self-portrait polaroids, as well as painting and performance art. Exhibits of her work have included an entire exhibit, "Who Shot Natalie White?" dedicated to artwork with her as muse, including numerous self portraits, at Rox Gallery, the "Second Annual Women in Art Benefit" at the Brooklyn Museum Elizabeth Sackler Center, as well a recent performance art installation at The Hole Gallery, "Natalie White For Equal Rights." Collectors of her work include Nicole Ehrlich, Maurice Marciano, Elizabeth Fekkai and the Brooklyn Museum.