UPRISE / ANGRY WOMEN
A Group Exhibition of Female Artists Curated by Indira Cesarine
A Portion of Proceeds to Benefit the ERA COALITION and the Fund for Women's Equality
EXHIBITION ON VIEW
January 17 – February 5, 2017
Monday – Friday 10am – 6pm
Weekends 11am – 6pm
THE UNTITLED SPACE
45 Lispenard Street Unit 1W
NYC 10013
OPENING RECEPTION
January 17, 6pm – 9pm
ARTIST TALK
January 22nd
HOSTED BY INDIRA CESARINE + ROSE MCGOWAN
6pm – 8pm
In honor of the 44th anniversary of Roe vs Wade, The Untitled Space will be presenting an artist talk on "art as activism" and the future of women's rights in America in light of the "Trumpocalypse". Participating artists include Ann Lewis, Annika Connor, Audrey Lyall, Cinnamon Willis, Daniela Raytchev, Jackie Maidenfed, Indira Cesarine, Maggie Dunlap, and Rose McGowan.
ARTIST TALK
January 26th, 6pm – 8pm
The Untitled Space will be presenting an artist talk on Thursday, January 26th on "Art as Protest" in light of the Trumpocalypse. The event will be hosted by gallery director/artist Indira Cesarine. Participating artists include: Erin Lynn Welsh, Haile Binns, Kat Danziger, Laura Murray, Linda Friedman Schmidt, Mila Rochenner, Rosary Solimanto, Sophia Wallace, Taira Rice and Virgina Wagner.

CLOSING RECEPTION + LAUNCH OF PADDLE8 AUCTION
February 5th, 2pm – 6pm
To conclude the exhibition, The Untitled Space will partner with Paddle8 on an exclusive benefit auction, with online bidding set to begin on February 5th and closing at 5pm on February 20th.
The auction will include many artworks featured in the UPRISE / ANGRY WOMAN exhibit, with a portion of proceeds benefiting the ERA COALITION's Fund for Women's Equality.
The closing reception celebrates the launch of our Paddle8 Benefit Auction with a portion of proceeds benefiting the ERA Coalition's Fund For Women's Equality.
Bidding to begin February 5th, closing February 20th at 5pm.

ARTWORK FEATURED IN "UPRISE / ANGRY WOMEN" Exhibit, left to right, Ingrid V. Wells, Annika Connor, Lili White

EXHIBITING ARTISTS
Allison Hill-Edgar, Alonsa Guevara, Alyson Provax, AM DeBrincat, Andrea Mary Marshall, Anna Rindos, Anna Van Schaap, Anne Arden McDonald, Annika Connor, Anya Rubin, Audrey Lyall, Bia Monteiro, BooLynn Walsh, Camilla Marie Dahl, Cara DeAngelis, Chantal Bruchez-Hall, Christina Massey, Cinnamon Willis, Daniela Raytchev, Danielle Siegelbaum, Desire Rebecca Moheb Zandi, Diana Casanova, Elektra KB, Enid Crow, Erin Lynn Welsh, Fahren Feingold, GILF! (Ann Lewis), Gin Stone, Haile Binns, Hye Ryung Na, Indira Cesarine, Ingrid Wells, Jasmine Williams, Jennifer Dwyer, Joan Bemel Iron Moccasin, Jordie Oetken, Kat Danziger, Kat Toronto, Katrina Majkut, Katya Zvereva, Kelly Witte, Kristen Williams, Laura Murray, Lauren Rinaldi, Leah Oates, Lili White, Linda Friedman Schmidt, Lucia Fainzilber, Lynn Bianchi, Maggie Dunlap, Maidenfed, Mary K Theinert, Meredith Ostrom, Mila Rochenner, Miza Coplin, Natalie White, NatSuko Hattori, Olga Filippova, Parker Day, Pat Badt, Patty Horing, Rebecca Leveille, Renee Dykeman, Rosary Solimanto, Rose McGowan, Rute Ventura, Ruth Rodriguez, Sara Jean-Baptiste, Sarupa Sidaarth, Shawnette George, Sophia Wallace, Stephanie Hanes, Taira Rice, Tania Alvarez, Tatyana Murray, Tiffany Trenda, Tracy Brown, Virginia Wagner, Yasmine Diaz, Zen Sevastyanova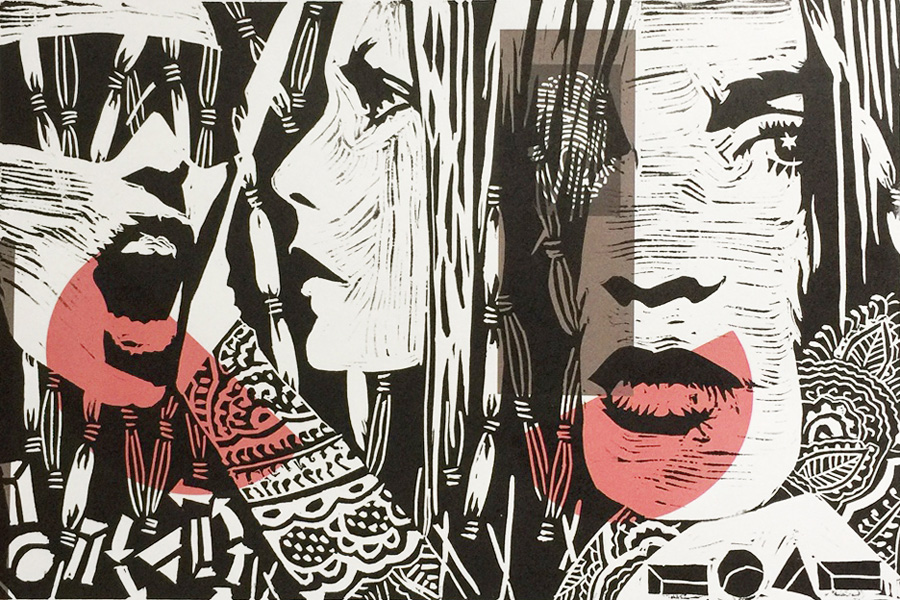 ARTWORK FEATURED IN "UPRISE / ANGRY WOMEN" Exhibit, artist Danielle Siegelbaum
The Untitled Space gallery is pleased to present exhibition, UPRISE / ANGRY WOMEN, curated by Indira Cesarine, featuring the work of 80 female contemporary artists responding to the current social and political climate in America in light of the recent presidential election. The exhibit will take place from January 17- February 5th, 2017, opening the week of the presidential inauguration, with several events to take place including an opening reception on January 17th and event on January 22nd which marks the 44th anniversary of landmark case Roe vs Wade.
The UPRISE / ANGRY WOMEN exhibit is presented in partnership with the ERA COALITION, a political organization that is working to support passage and ratification of the Equal Rights Amendment, and a portion of proceeds will benefit their Fund for Women's Equality. The Fund for Women's Equality is a charitable organization, working to raise awareness on gaps in the law that leave women without legal recourse from sex discrimination, and developing educational resources on the need for a constitutional provision to protect and promote equal rights for women. Founded by Jessica Neuwirth, author of "Equal Means Equal", the ERA Coalition board also includes Gloria Steinem, Teresa Younger and many other prominent women's rights activists.

"UPRISE / ANGRY WOMEN" Exhibit, Left to right, Ruth Rodriguez, Anya Rubin, Linda Friedman Schmidt
"Right now it is important time for women to demonstrate solidarity in face of the threats upon us in regards to women's rights. The 2016 presidential election has brought to the surface extremes of sexism, racism and discrimination. Many women are deeply disturbed not only by the negative stereotyping and sexist attitudes towards women that have surfaced but also the threats to roll back women's rights. The "UPRISE / ANGRY WOMEN" exhibit gives female artists a means to express themselves in regards to the social and political climate in America, and empower others with their visual imagery. We are proud to partner with the ERA Coalition and help raise money for their Fund for Women's Equality. Right now more than ever women need to unify and work together to ensure that our rights, which were fought for with blood and tears for many decades, are not only assured, but continue to progress." – Curator Indira Cesarine



"UPRISE / ANGRY WOMEN" Exhibit, left to right, Parker Day, Laura Murray, Chantal Bruchez-Hall
ABOUT THE UNTITLED SPACE:
The Untitled Space is an art gallery located in Tribeca, New York in a landmark building on Lispenard Street. Founded in 2014 by Indira Cesarine, the gallery features an ongoing curation of exhibits of emerging and established contemporary artists exploring conceptual framework and boundary pushing ideology through mediums of painting, sculpture, printmaking, photography, video and performance art. The gallery is committing to exploring new ideas vis-à-vis traditional and new mediums and highlights a program of "Women in Art" as well as special events aligned with our creative vision.
ABOUT THE ERA COALITION AND FUND FOR WOMEN'S EQUALITY:
The Fund for Women's Equality, a 501 (c)(3) charitable organization, promotes legal and lived equality in the United States by increasing public understanding of the need for comprehensive, fair and equal treatment of women and girls under the law and the need to end sex inequality in all its forms. The ERA Coalition, a 501 (c)(4) political organization, works with Congress and grassroots activists for the passage and ratification of an Equal Rights Amendment. All men and women are created equal and that must be reflected in the Constitution. For more information visit online www.eracoalition.org.
*Please note artworks created for this exhibition do not reflect the ERA Coalition's opinions. All works are the creations of respective artists, and the ERA Coalition's does not specifically endorse or accept any responsibility or liability for the content of the artwork featured in the UPRISE / ANGRY WOMEN exhibition.
ABOUT PADDLE8
Founded in 2011, Paddle8 brings the tradition-bound auction world into the 21st century. Offering a seamless online process, Paddle8 makes collecting and selling art online an easy, efficient, and enjoyable experience. Paddle8 features specialist-curated auctions, nonprofit auctions, private and buy-now sales in the categories of Post-War and Contemporary Art, Prints and Multiples, Photographs, Fine Art, Contemporary Collectibles, Music and Entertainment Memorabilia, and 20th Century Design. Paddle8 is especially proud to partner with more than 350 nonprofit organizations worldwide to present their benefit auctions to a global community of more than 500,000 collectors, helping each organization expand its fundraising results.
PRESS ON UPRISE / ANGRY WOMEN
NEWSWEEK
TEEN VOGUE
W MAGAZINE
HARPER'S BAZAAR
DAZED DIGITAL
i-D MAGAZINE
WHITEWALL
NY MAGAZINE
HUFFINGTON POST
MASHABLE
BUST
REFINERY 29
VICE – BROADLY
NYLON
BULLETT MAGAZINE
UNTITLED MAGAZINE
GOOD TROUBLE
SALON
METRO
BEDFORD + BOWERY
GIRL TALK HQ
TRIBECA TRIB
DNA INFO
ART NERD
AUDIOFEMME
BLOUINARTINFO
THE CREATORS PROJECT
ELLE ITALIA
MARIE CLAIRE BRAZIL
VOGUE ARABIA