THE UNTITLED SPACE & MILK AND NIGHT
In Collaboration with threeASFOUR
present
Cardiac Insomniac: A Solo Show of Works by ANGE
THE UNTITLED SPACE
45 Lispenard Street Unit 1W
NYC 10013
OPENING RECEPTION
June 14 | 6pm – 9pm
EXHIBITION ON VIEW
June 15 – 21 | 12pm – 6pm
ARTIST TALK + CLOSING RECEPTION
Q&A with ANGE Moderated by JESSICA MITRANI
June 20 | 5pm – 8pm



The Untitled Space and Milk and Night in collaboration with threeASFOUR are pleased to present "Cardiac Insomniac: A Solo Show of Works by ANGE". ANGE (Angela Donhauser) is a one-woman-show of self portraits exploring existential themes such as the human condition, gender identity, humanity, love, age, sexuality, pleasure & pain, society and race. ANGE's photographic practice is an ongoing series of visual vignettes, provoking and evoking a deep emotional connection through drama and comedy, in a serious play of dress and undress. She is one of the founding members of the cutting-edge fashion collective threeASFOUR. The avant garde designs of threeASFOUR have been acquired for the permanent collections of numerous museums, including The Victoria and Albert Museum in London, The Metropolitan Museum of Art, and Cooper Hewitt Museum. A self-taught visual artist, ANGE believes in "the school of life and the freedom of self-expression." Born in Tajikistan and raised in Germany, she traveled to New York City twenty years ago where she currently resides.
"I call my work 'mood swinging' which is a humorous self critique by going to the depths of human and feminine emotions and views on social and gender acceptance and personal freedom, I also call myself a 'emotional activist'. My work is drama and/or comedy, a political statement or simply just visual poetry, either way it is there to provoke feeling and reflection. It's about daily improvisations, on a human and artistic level, communicating with the world around me and questioning and exploring through inspiration everywhere. An artist's responsibility is the integrity of truth and a certain rebellion and activism as a reflection to society and our ever shifting cultural paradigms."
– Artist ANGE on her photographic practice and performance art.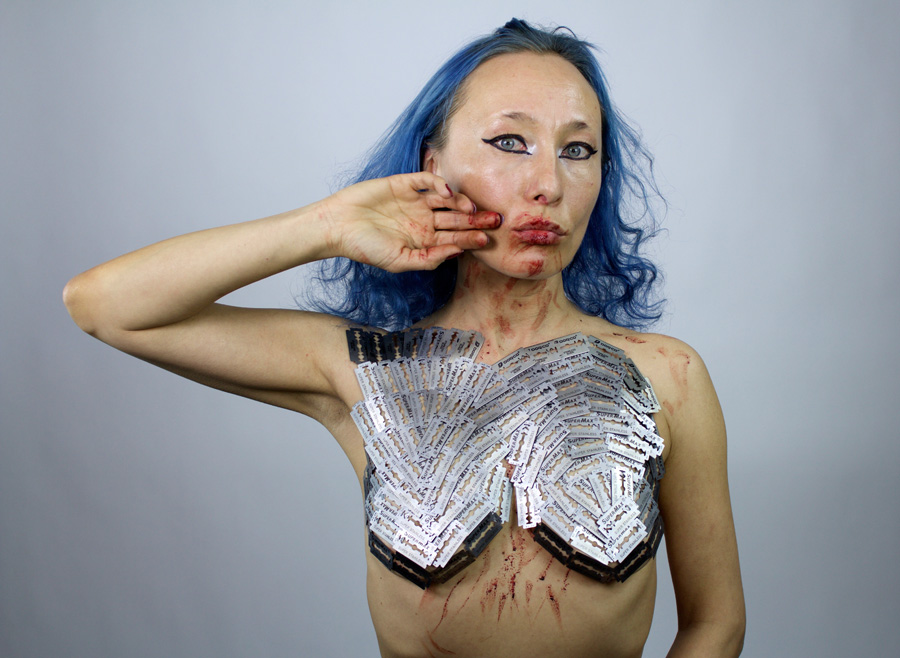 ABOUT THE UNTITLED SPACE
Founded in 2014 by Indira Cesarine, The Untitled Space art gallery features an ongoing curation of exhibits of emerging and established contemporary artists exploring conceptual framework and boundary pushing ideology through mediums of painting, sculpture, printmaking, photography, video and performance art. The gallery is committing to exploring new ideas vis-à-vis traditional and new mediums and highlights a program of "Women in Art," as well as special events aligned with our creative vision.
ABOUT MILK AND NIGHT
Milk and Night, founded by Coco Dolle, is a curatorial dedicated to substantiate the visibility of contemporary feminisms in the art world. Inspired by the legacy of traditional feminist practices, Milk and Night offers a dynamic platform of intellectualism with the future generation of voices. Milk and Night produces exhibition programs, discussion panels, and performance events with a special interest in collaborative efforts with guest curators exploring intersections in communities.
RSVP: events@untitled-space.com
Contact us for more information: info@untitled-space.com