NO END TO LOVE
An Artsy Online Exclusive
Featuring works on paper by artist Fahren Feingold
EXHIBITION ON VIEW
April 14 – May 31st, 2020
VIEW NOW
TAKE AN EXTRA 10% OFF IN OUR NEW ART BOUTIQUE
with code ILOVEUNTITLED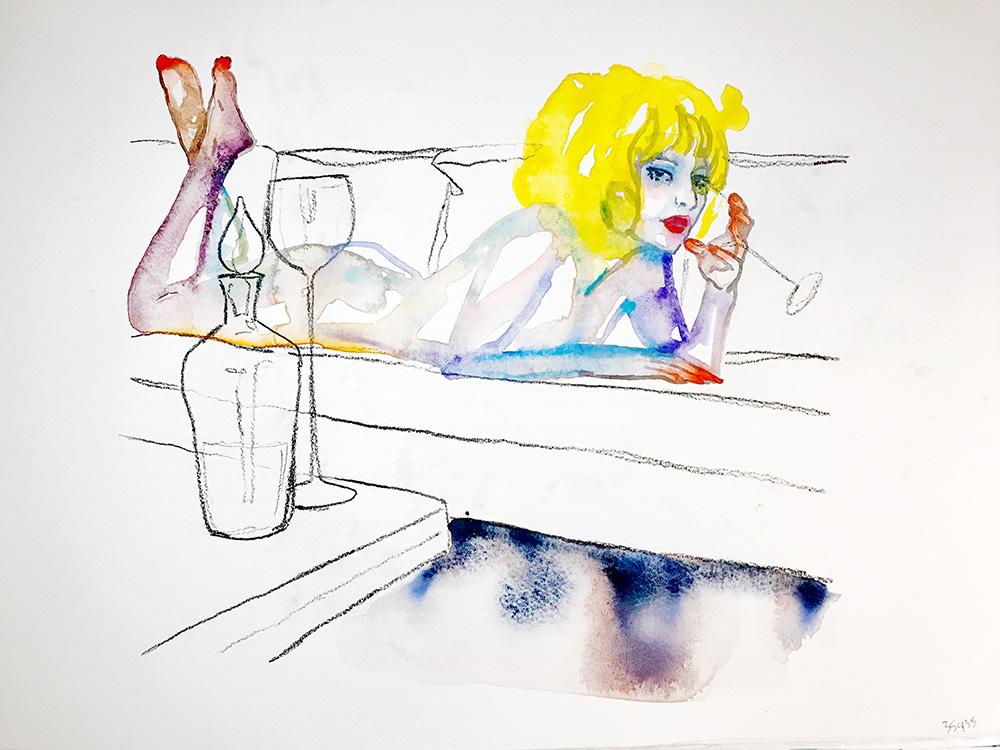 The Untitled Space is pleased to present "NO END TO LOVE" a limited time online Artsy exclusive of works on paper by artist Fahren Feingold launching on April 14th, and on view through May 31st, 2020. While the exhibition is live all artworks in the collection are offered at discounted prices in light of the COVID-19 crisis, with new works added regularly.
Watercolor artist Fahren Feingold imparts an ethereal quality to her unique works depicting the female form. Her watercolors featuring bold feminine nudes reference imagery from early 20th century French erotica, vintage American magazines from the 70s and 80s, and today's Internet girls. The Los Angeles native moved to New York at the age of seventeen to study at the Parsons School of Design. After earning her BFA between Parsons and Glasgow School of Art, she worked as a fashion designer for top brands including Ralph Lauren, Nicole Miller, and J.Crew, among others. In 2016, her dreamy watercolors caught the eye of the legendary Nick Knight, who commissioned her to illustrate Paris Fashion Week for SHOW Studio. Since then, her work has been featured in numerous international exhibitions including "Moving Kate," curated by Nick Knight for SHOW Studio in London and The Mass in Tokyo; "The Vulgar" at The Barbican in London, curated by Judith Clark and Adam Phillips; "Red Hot Wicked" at Studio C Gallery in Los Angeles; as well as The Untitled Space group shows "UPRISE / ANGRY WOMEN" and "SECRET GARDEN" curated by Indira Cesarine and "LIFEFORCE" curated by Kelsey and Remy Bennett.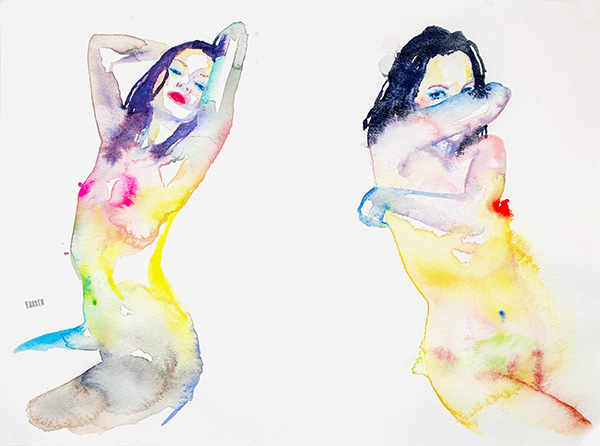 Celebrated as "a trailblazing artist on a meteoric rise" by Vogue, her watercolors have steadily gained recognition from collectors and critics alike for their sensitive, dreamlike colors, graceful brush, and rendition of the female nude. Through her erotic depictions, Feingold gives new voices to women of the past and present while exploring larger notions of female constructs in contemporary society. She had a solo show curated by Indira Cesarine at The Untitled Space in September of 2017, as well as a solo show presented by the gallery in collaboration with brand Fleur du Mal in 2018 titled "The Peep Show". Her work was featured at SPRING/BREAK Art Show in both the "EDEN" (2019) and "(Hotel) XX" (2018) exhibitions presented by The Untitled Space, and was recently featured at Sotheby's New York for the annual "Take Home A Nude" benefit exhibit and auction in October 2019.