Meg Lionel Murphy "Dreams of Dragons"
A Special Project Presented by The Untitled Space
Curated by Indira Cesarine
SPRING/BREAK ART SHOW LOS ANGELES
5880 Adams Blvd, Culver City, CA 9023
EXHIBITION ON VIEW
February 16-20, 2022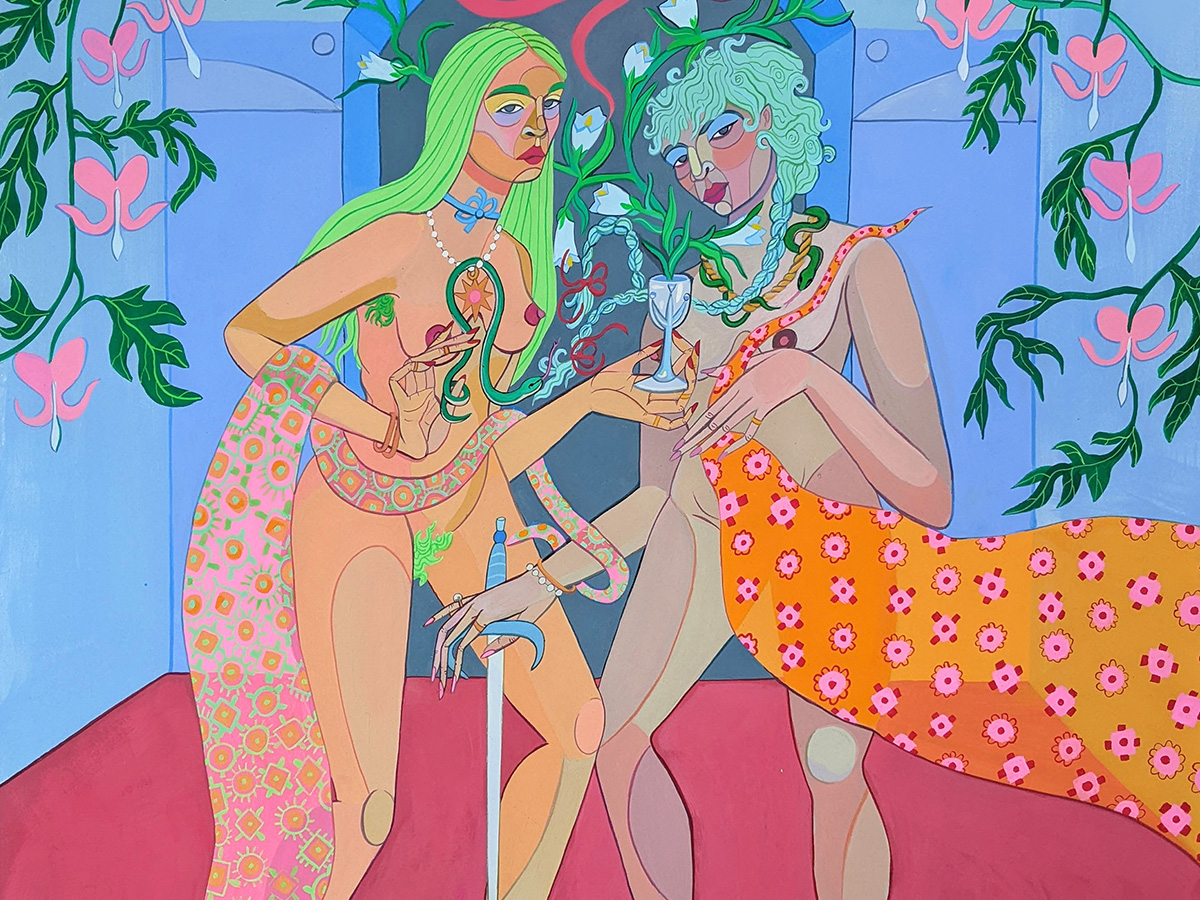 The Untitled Space is pleased to present "Dreams of Dragons" a Solo Special Project at SPRING/BREAK Art Show Los Angeles of works by artist Meg Lionel Murphy on view from February 16 – 20th, 2022. "Dreams of Dragons," curated by Indira Cesarine, will be part of the series of curated exhibitions presented by SPRING/BREAK themed "HEARSAY:HERESY."
Meg Lionel Murphy's work has long borrowed phantasmagorical imagery of the medieval era—rainbows, manic flowers, lightning bolts, angels, and unicorns—but safety is the ultimate fantasy of the work. There is no safety in our world so Meg escapes through the portal of her paintings. The ongoing mythical subject matter of Meg's work takes place in a dreamworld where suffering transforms femme bodies into a monstrous size, so that their pain must be seen, felt, and reckoned with. Murphy will build upon her last SPRING/BREAK solo exhibition "The Keep" which took place in New York in September 2021, and again imagine herself to be a cloistered, mystical time-traveling nun — fusing the medieval with the modern. Once transported to the fantasyland of Manica Deprica, she will build another, more intimate shrine to the giants of her work, entitled Dreams of Dragons. 
Just as early Christians used Pagan symbols to build a practice of worship, Murphy weaves Catholic—specifically Marian—imagery into her work, stripping parts of it back to its most magical, witchy, feminist roots. She is fascinated with religious art and mines it for traces of traumatic experience illustrated by metaphor. This research lies deep within her work. Within Dream of Dragons, the viewer will be invited to kneel before an altar that takes the shape of a bed. There, they can light a fake candle to the Giants with fake fire—real to the imagination. They will be invited to take a felt relic symbol of their visit to the shrine, inviting the giants into the "real" world. The installation of found objects and paintings will examine the broken promises of contemporary adulthood.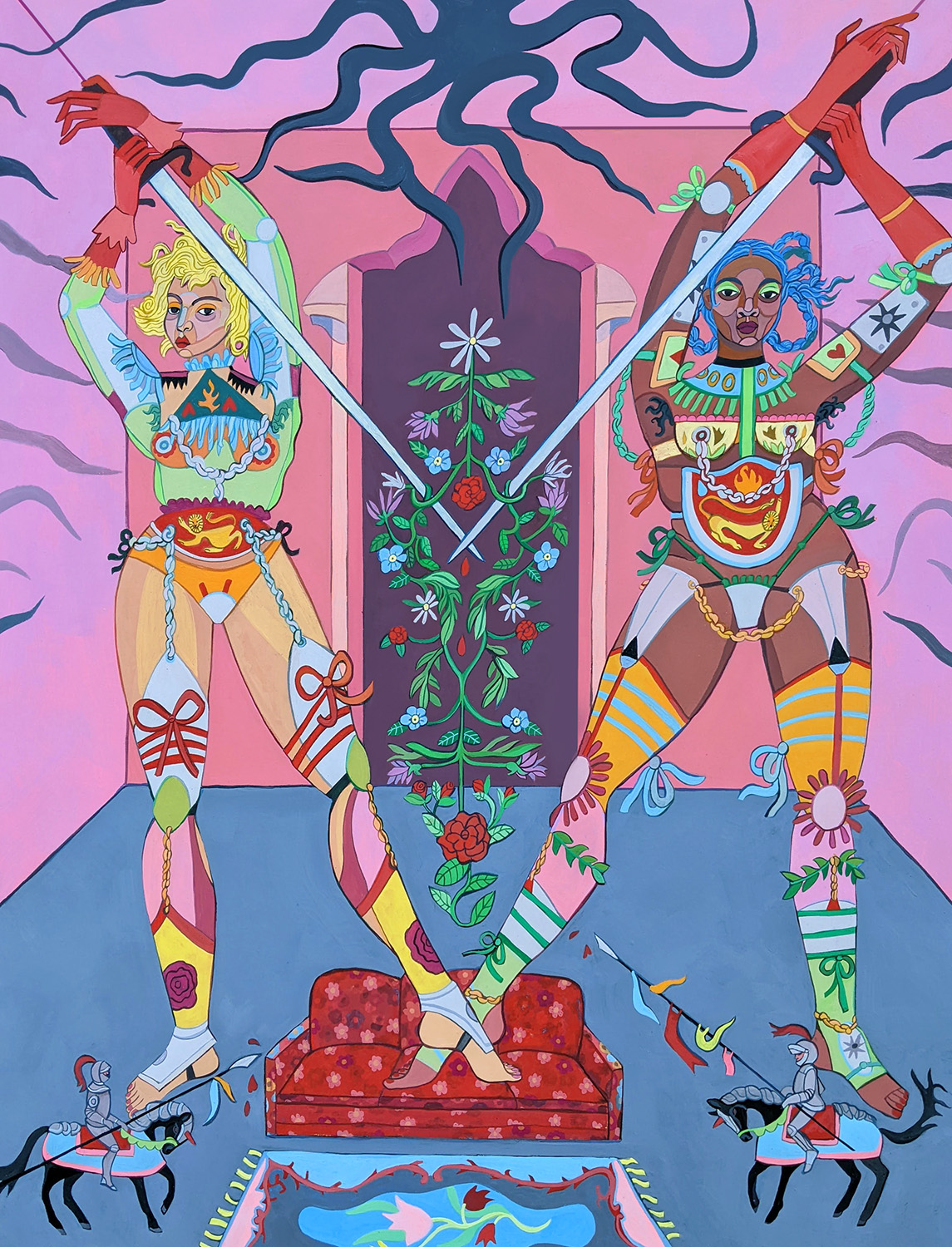 Murphy's work exudes the feeling of a spell or a prayer, but also feels like a manic/tragic lullaby. Toys, trinkets, and doll furniture will jolt the viewer back and forth between child and adult — between life size and giant size, between play and power, between hope and loss. Such polar extremes are core themes in Murphy's medieval landscape, which she sees as the land of Manica Deprica, a far, far away place of highs and of lows. What manic angels and depressive demons can Murphy exercise in the therapy of her euphoric and devastating paintings?  Are the fantasies we tell ourselves today as frivolous as the princess bedtime stories many of us were raised on? The newest paintings will attempt to answer these questions by depicting dreamy and demented bedtime rituals with a medieval edge, haunted by dreams of dragons.
Four medieval stories of demons inspire this body of work, as Murphy bends Catholic and romantic tropes into a potent modern spell for her work. In the story of St George, the dragon stands in for heresy of the pagans. Murphy's giants are fighting remnants of dangerous medieval ideas on gender and religion that haunt our modern secular lives. In the story of St. Marina, the dragon is a stand in for the devil, but also rape and violence of men upon women. Perfectly suited for our troubled times, St. Marina's popularity grew with bouts of plague and she became a saint to pray to while in the worst desperation and fear. Murphy's giants are fighting the same demons, but she asks for her giants to be a symbol of strength instead of the saints of the old church. Murphy's favorite dragon story is that of Mélusine, who turns into a dragon when her husband betrays her. Perhaps the giants of these paintings are monsters fighting other monsters. In researching stories of warrior women battling demons, Meg came across the medieval story of Dulle Griet (in english, coincidentally titled Mad Meg) and became consumed by Bruegel's late medieval painting of a giant army of women, who sided with the demons of hell to take revenge on men. Without knowing this story, Meg has been rewriting it for years. In this showing of her work, she intentionally weaves some of Bruegel's imagery into her own to explore dragons as a symbol of trauma.
This world of "Manica Deprica," years in the making, is perfectly poised to both worship and question the trauma that serves as her giant's ultimate transformative magic. She looks to the giants of her surrealist fantasy world, and finds them holding worthless domestic objects, too small to be of use. There is no turning back. There are tiny armies of men at their feet.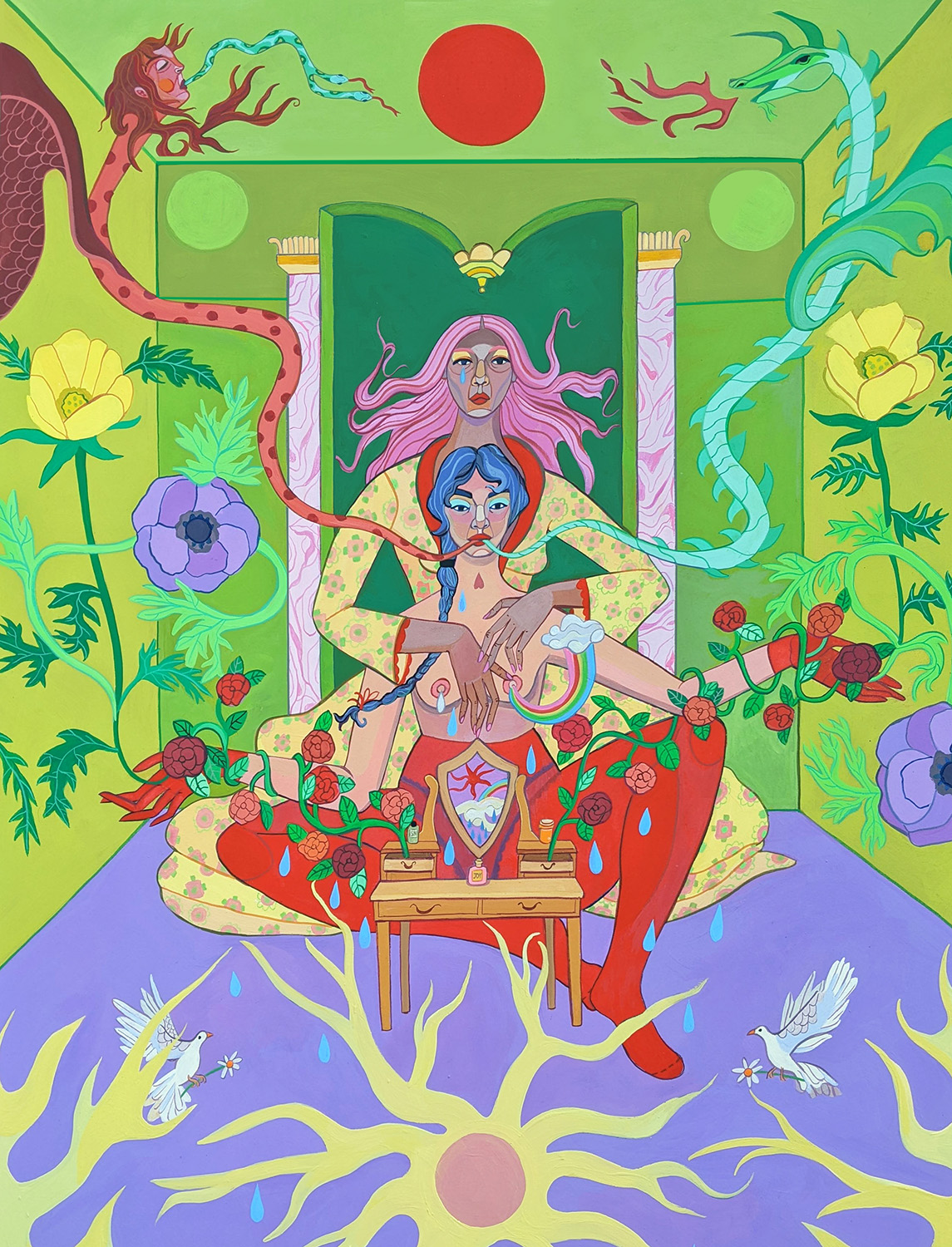 ARTIST BIOGRAPHY
Artist Meg Lionel Murphy's paintings are directly influenced by her personal experiences, as she copes with debilitating PTSD from severe domestic violence. She works out of a little blue shack in a junkyard on her family's property in Wisconsin, where she paints detailed, vivid works on paper and panels depicting heartbroken bodies that magically grow larger, stronger, and scarier than the world around them. Her paintings of the female form as giantess unconquerable figures address their experiences of pain, trauma, and healing as well as their interactions with the environments they consume as they assert their power. Her work depicts a reverence for fragility and humanity while examining questions about whiteness, gender, sexuality, class, sacrifice, pain, sickness, loneliness, and most of all—violence and its haunting memories.
Meg Lionel Murphy received degrees in Art, Art History, and English Literature from the University of Minnesota—Twin Cities, where she additionally studied classical oil painting in Florence, Italy. After college, Murphy worked as a children's illustrator and co-founded a literary and art magazine, Paper Darts. She also helped to run the arts nonprofit, Pollen Midwest, that uses storytelling and art to explore social justice movements. After leaving her career in publishing to focus on painting, Murphy eventually moved to rural Wisconsin to focus on her art without distraction. Her artwork has been presented in exhibitions throughout the US, including her 2021 solo show "Traumatica Dramatica" at The Untitled Space (New York), Solo Fair booth, "The Keep" at SPRING/BREAK ART SHOW NY 2021, as well as 2020 solo shows "Interior Violence" at CoExhibitions Gallery (Minneapolis), and "Meg Lionel Murphy" online solo show presented The Untitled Space. Her work has additionally been presented in a number of group shows including at Public Functionary (Minneapolis), Jolby And Friends (Portland), Waiting Room Gallery (Minneapolis), the Other Art Fair (Los Angeles), and "Art4Equality" Exhibition and Public Art Billboard presented by The Untitled Space in collaboration with SaveArtSpace, October – November 2020. Murphy's artwork has been featured in a variety of publications including Forbes, GirltalkHQ, Art Publika, Interlocateur, Tartarus, Bitch Magazine, Mutual Art, Brown Paper Bag, MPLS Art, Mulieris Magazine, Neut Magazine, 360 Magazine, and The Untitled Magazine.
For more info contact us