JOIN PROJECT LITERACY
IN CELEBRATING
INTERNATIONAL LITERACY DAY
SEPTEMBER 8TH
10AM – 6:30PM
THE UNTITLED SPACE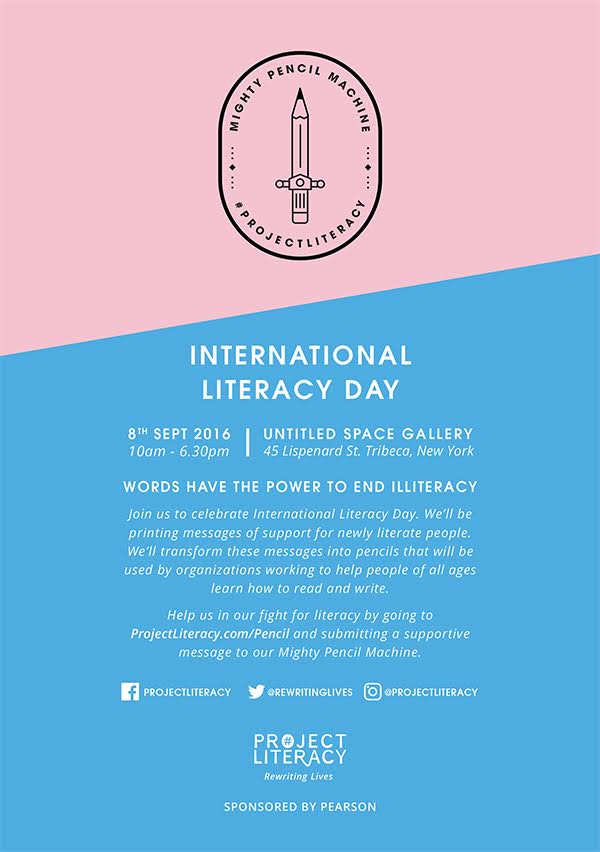 Words Have the Power to End Illiteracy
Join Project Literacy in celebrating the 50th International Literacy Day on September 8th at The Untitled Space Gallery in Tribeca, NY. In a special one day only event and installation, Project Literacy will present "The Mighty Pencil Machine", an interactive exhibit that physically illustrates how words have the power to end illiteracy and showcases messages of support transformed into pencils.
"The Mighty Pencil Machine" enables visitors to input positive messages of support for newly literate people (via pencil.projectliteracy.com), see them being made into pencils that will be used by organizations working to help people of all ages learn how to read and write.
Today, 32 million American adults cannot read and one in four children grow up without learning how to read. In New York alone, 1 in 4 residents are functionally illiterate. Yet many do not realize that illiteracy is more than the inability to read a good book. Illiteracy is linked to almost every major global development challenge there is, from infant mortality and malnutrition to gender inequality and unemployment.
Help us in our fight for literacy and help rewrite lives.