"…Do They Make A Sound?" JESSICA LICHTENSTEIN
A Solo Exhibition Curated by Indira Cesarine for The Untitled Space
VIEWING ROOM: ONLINE EXHIBIT NOW LIVE
SPRING/BREAK ART SHOW 2020
625 MADISON AVENUE, NYC
VIP OPENING
Tuesday, March 3rd
11am – 8:30pm
EXHIBITION ON VIEW
March 4 – 9, 2020
11am – 8pm daily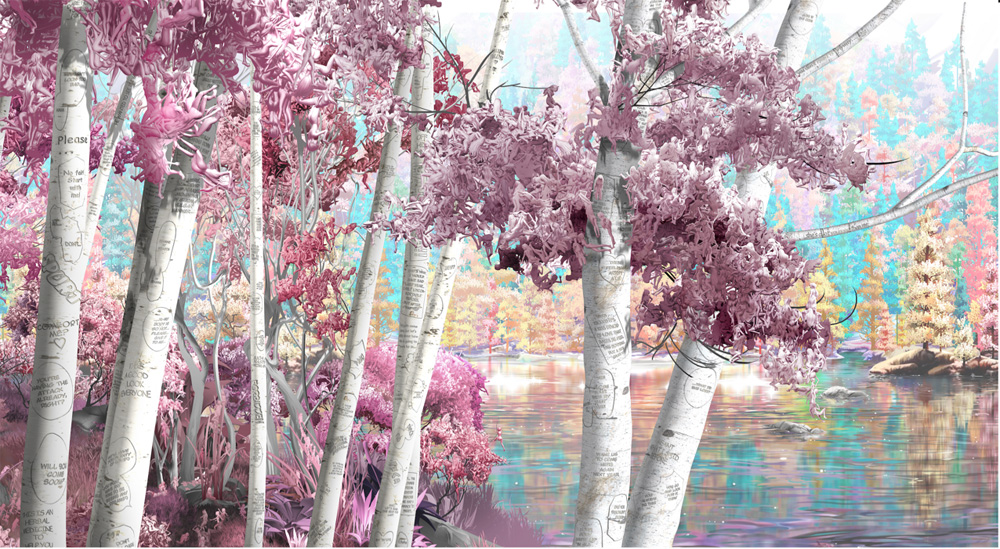 The Untitled Space is pleased to present "…Do They Make A Sound?" an immersive installation and solo exhibition by artist Jessica Lichtenstein curated by Indira Cesarine for SPRING/BREAK Art Show 2020. The Special Project will be on view from March 3rd – 9th at 625 Madison Avenue in New York City. SPRING/BREAK Art Show, known as being one of the worlds most innovative art fairs, is an annual experimental platform for independent curators to exhibit works by emerging and mid-career artists. This year's edition revolves around the theme "In Excess."
Artist Jessica Lichtenstein uses the female body as a mechanism to explore deeper themes of power, female representation, fetishism and objectification. Her work plays with the boundaries of power, commercialization, consumerism, fantasy and propriety, provoking tensions that challenge the viewer. For "…Do They Make A Sound?" She has created an immersive installation that includes a forest scene made out of 1000's of digital renderings of the female form. The faceless, repeating effeminate forms represent both the community of women in the world and the individual characteristics that make up a single woman. Varied body positions differentiate each figure and yet harmoniously contribute to the texture of the leafy, vibrant trees that unifies them.
Fascinated by the mass-production and fetishization of hyper-sexualized Japanese figurines, Lichtenstein manipulates the presentation and context of mass-produced anime dolls in order to imbue them with new associations and richer meaning. The artist, a graduate of Yale University, has exhibited her work extensively in solo and group shows over the last decade. In 2013, Lichtenstein started creating landscape pieces that infused women as the foliage of trees, in order to investigate the simultaneous anonymity and specificity of the female characters. From a distance, her silhouettes resemble blossoming trees. Look closer, however, and you'll notice that each flower is a female body contorted into a unique position. The hyper-sexualized physiques are faceless, alluding to the male gaze's tendency to reduce women to their bodily parts. But for Lichtenstein, these women are in the midst of a revolution. "These women are emerging from the shadows and revealing themselves, revealing their stories," she states of her figures. Lichtenstein's landscapes teeming with women offer a vision of a fertile future, where women's bodies form a lush army that is both sensual and strong. Their figures pay tribute to the female form's extensive art historical precedent, as their teeming abundance hints at a highly anticipated uprising.
For SPRING/BREAK Art Show 2020, Lichtenstein's immersive installation ponders the question, "If a tree falls in the forest, do they make a sound?" The exhibition presents a forest scene, with trees falling and leaves, in the form of tiny female figures, scattering. The viewer becomes fully engaged in her conceptual landscape which features snippets of news carved into the trees like love notes. The floor becomes a reflection of the scene with the leaves in the shape of girls echoing statements as well as the voices, the "sounds" of these women. To create her environment the artist builds the landscape with layers upon layers of images, a literal bombardment of colors and characters. The viewer will be able to explore and discover unique details throughout the scene that play with notions of perception, including hidden moments and words that with closer view reveal themselves.
Artist Statement
"We are all familiar with the saying, "If a tree falls in a forest and no one is around to hear it, does it make a sound?" It is a philosophical thought experiment that raises questions regarding human observation and perception. If an event occurs, and no one is there to witness it, did it occur? If a male and female engage in activity, and no one else is around to witness, and both stories diverge, who do we believe? If preponderance of circumstances show that the male is more believable, who are the women who come forward and what do we as a society do to those women – believe them, disbelieve, mock, celebrate? The last year has been filled with more "me-too" movements. Voices of women actually making that sound. My work has always focused on female form. The trees to me not only represent a landscape of women, but a new archetype for women in the workplace, women in public office, women as presidents… literally a world teaming with women. But there's also a fragility to the forest and the trees. There are winds that blow, there are storms. What happens when you get knocked off the tree, what happens during the fall?"
Exhibition Contacts:
The Untitled Space info@untitled-space.com
Tickets: springbreakartshow.com