THE UNTITLED MAGAZINE & THE UNTITLED SPACE
present
The "F" Word: Feminism in Art
A Group Show of 20 Female Contemporary Artists
Curated by Indira Cesarine & Denise Krimershmoys
OPENING RECEPTION
Tuesday, October 20th
6-9pm
The Untitled Space
45 Lispenard Street Unit 1W
Featuring a Special Performance by Art Collective Legacy Fatale
Exhibition on View
October 21 – 30 | 10am – 6pm
Weekend Hours 12pm – 5pm
The Untitled Magazine is pleased to present: "The 'F' Word: Feminism in Art" A group show of 20 female contemporary artists at The Untitled Space in New York City from October 20 – 28th, 2015. Curated by gallery director Indira Cesarine and Denise Krimershmoys of Vohn Gallery, the exhibit features a wide array of mediums, including painting, sculpture, photography, printmaking, and embroidery. Each artist individually addresses concepts revolving around feminism with works that either challenge gender stereotypes or embrace female empowerment, with literal or metaphorical visual language. Featured artists include: Annika Connor, Anya Rubin, Christina Kruse, Coco Dolle, CocoRosie, Elektra KB, Ellen Jong, Frances Goodman, Hye Rim Lee, Indira Cesarine, Jennifer Caviola aka Cake, Jessica Lichtenstein, Langdon Graves, Mari Kim, Natalie White, Robyn Hasty, Sophia Wallace, Tatyana Murray, Vexta, and Zana Briski.
The opening featured a special performance by Legacy Fatale, an interdisciplinary performance art collective born in New York under the direction of artist Coco Dolle and co-leader Shawn Bishop. Its concept is based on recent archeological discoveries of the ancient nomadic Amazons, warrior women. Incorporating original music composition and costumes, Legacy Fatale's performances are evocative of tribal and pagan rituals, ceremonial processions and interpretative dances. Legacy Fatale represents a hybrid breed of mythical and contemporary female archetypes, honoring a global buried matriarchal lineage. The collective has previously performed at numerous art fairs and venues including Miami Art Basel, Select Art Fair, Fountain Art Fair, Sensei Gallery, and Lincoln Center.
The exhibition "The 'F' Word: Feminism in Art" was curated in celebration of The #GirlPower Issue of The Untitled Magazine, and is part of the publication's "Women in Art" series, which features a wide range of contemporary female artists in a series of solo exhibitions and group shows at The Untitled Space on an ongoing basis.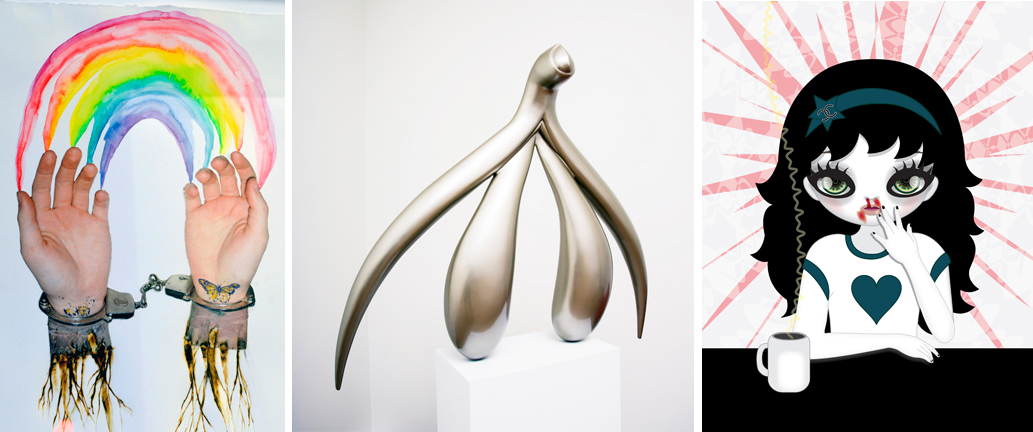 ARTISTS BIOS:
Annika Connor
Swedish-American artist Annika Connor is a Contemporary Romantic painter. Her work depicts a sense of haunted mystery and a fascination with beauty. In 2002, Connor received a Bachelor of Fine Arts from the School of the Art Institute of Chicago where she studied painting and philosophy. Since then, Connor has worked professionally as a painter in New York, London, and Stockholm while participating in numerous national and international exhibitions. She was cited as one of the "5 Rising Art Stars" by the Huffington Post. She currently resides in Brooklyn where she maintains an active studio. Recent exhibits of Annika Connor's work at The Untitled Space include "Flora/Fauna", a solo show of works by the artist revolving around nature, as well as participation in our group show "Human/Nature".
Anya Rubin
Anya Rubin reflects upon the social, political and spiritual conditions of contemporary culture as it is mediated by today's fast-paced technology. Rubin was born in St. Petersburg, Russia in 1967. She immigrated at a young age to Israel and then to Germany in 1975. Rubin finally settled in America at the end of 1975 and has lived in New York ever since. Rubin is a self-taught artist who works predominantly in the medium of oil and acrylic / perm enamel painting, but also pursues collage, digital creations. Rubin's ranges of artistic techniques have been shown in museums, galleries and biennales worldwide.
Christina Kruse
Upon completion of studies in science and sociology at secondary school, Kruse began her career as one of Europe's top fashion models in 1993. In 1995, she bought a Mamiya camera and began the first of her illustrated journals or "Reisebuchs" a series of mixed media notebooks chronicling her world travels and composed of photographic self-portraits, collages, drawings, and writings in several languages. As an artist, working primarily in mixed media and photography, she has shown in New York, London, Paris, Berlin and Hamburg. In 2005, she received an award from GLAAD for best emerging artist in photography.
Coco Dolle
Coco Dolle is an artist and curator living in Brooklyn, New York. Her performances, prints and paintings explore the perception of the feminine in pop culture. She works with themes of ancient myths and interpretative dance, channeling concepts of worship, leadership, identity and history. She is the founder of the performance collective Legacy Fatale and the director of Milk and Night, a feminist curatorial.
Her work has been featured in ArtForum, The New York Times, The Brooklyn Rail, the Wild Magazine, BlackBook and The New York Observer, among other publications, and at venues such as Tanya Bonakdar Gallery, Deitch Projects, The Hole Gallery, The Whitney Museum of American Art and The Berkeley Museum.
CocoRosie
CocoRosie is an American musical group formed in 2003 by sisters Bianca "Coco" and Sierra "Rosie" Casady. The sisters were born and raised in the United States, and re-joined while living in Paris as a musical and creative duo. They are prone to expressing their thoughts and stories through not only music, but poetry, prose, fashion, drawings and sculpture. Bianca 'Coco' Casady is a wholistic artist. In the inventing of characters and personal myths Bianca often questions the social constructs of religion, gender and associated taboo symbols in Baudelairian-like collisions of the beautiful and the ugly.

Elektra KB
Elektra KB, born in Odessa, Ukraine, is a Colombian artist living and working in Brooklyn, NY and Berlin, Germany. Elektra is a conceptually driven multidisciplinary artist who uses materials that have been historically associated with women's craft. She constructs her works with layers of felt, threads, embroidery and stitching combined with photographs on canvas. Her works also include collage, sculpture, video and performance. Her work explores the woman's body as a prison, arriving at alternatives for its liberation. Her images are intertwined with a visceral and unapologetic tone of protest and social dialogue. Her works display her interest in the intersection of aesthetic and political philosophy.

Ellen Jong
Ellen Jong's practice is rooted in conceptual interventions and autobiographical themes. Mixed media works are shaped by questions about self-awareness and relationships in a world of dualities, desire, spirituality, survival and love. Using photography, text, sculpture and methods, tools and objects of the vernacular, she has developed a syntax that is driven by personal narrative. Jong's early work focused largely on street reportage and portraiture and is the influence for her more recent mixed media work that touches on themes of social human behavior and the human condition. In the late 90's, her most recognized and transformative work started, "Pees," reflecting on female urination. Jong is also the author of her self-published second monograph, Getting To Know My Husband's Cock (2010), which was additionally exhibited in a solo show at Allegra LaViola gallery in 2012. Jong lives and works in NYC and Upstate NY.
Frances Goodman
Born in 1975 and based in Johannesburg, South Africa, Frances Goodman is today considered one of the country's leading artists. Her working practice, which includes installation, photography, sculpture and sound installations, focuses primarily on women and contemporary notions of beauty and desire. Her interests lie in female identity and the anxieties that manifest and are cultivated from the bombardment of the media as well as societal expectations and pressures (both self -imposed and external). Desire and morality are underlying themes and talk to the push-pull of our contemporary society. Her work has been exhibited internationally at many galleries and museums.
Hye Rim Lee
Hye Rim Lee is a Korean-New Zealand artist. Lee's 3D animations question new technology's role in image making and representation. Her work is ambitious yet conceptually and technically honed. Lee's photos and video installations tell a fantasy tale based on an intermingling of Eastern and Western popular culture and the study of new technologies and how they influence tradition, often referring to manga tradition. Her imagery gives life to transgender, transcultural characters who live in an imaginary world governed by testosterone. The artist analyses aspects of popular culture, globalization and femininity in relation to the media. Through her numerous works she demonstrates that the exploitation of the female body is still very much a relevant question. Hye Rim has developed and evolved her animated character TOKI, which parodies the obsession with beauty created by phallic motivations in cyber culture and gaming, with the work referencing critical contributions from contemporary mythology, psychoanalysis, technology, cybernetics, aesthetics, plastic surgery, feminism, consumerism and eroticism.
Lee's work has been exhibited widely in major solo and group exhibitions including MoCA Shanghai, Millennium Museum, San Jose Museum of Art, Museum of Contemporary Art Korea, 53rd and 54th Venice Biennale, Incheon Womens Art Biennale, and artfairs including Art Basel, FIAC, Frieze, Armory Show, Art Basel Miami, Art HK. She won the artist residency: Ssamzie Space Seoul and ISCP New York. Her works are part of major art collections including: Govett-Brewster Art Gallery, Adam Art Gallery, Te Papa, The University of Auckland, Ernst&Young, Saatchi&Saatchi NZ, Hara Museum, National Museum of Contemporary Art Korea and major private collections worldwide.
Indira Cesarine
Touted as a "photographic child prodigy," Indira Cesarine's first solo exhibition was at the age of 16 at the Paul Mellon Arts Center. She is a multimedia artist who works with photography, video, painting, printmaking and sculpture. She began her studies in art from the age of six years old, and by the age of eleven was creating large scale works of oil on canvas. After studying abroad in France at the age of thirteen, she moved to the east coast to study at Choate Rosemary Hall. During the summers she lived in New York City, where she attended Parson's School of Design for painting and photography from the age of fifteen. Her early work revolved around themes of the human condition and self-destruction, female empowerment and representation in contemporary culture.
After completion of a triple major in Art History, French and Women's Studies from Columbia University, she focused her work on using contemporary fashion and beauty photography as a means to address gender stereotypes and male domination in commercial media. As a photographer, she confronts the "male gaze" by presenting empowered images of women that encapsulate strength, sensitivity and intelligence. Over the past twenty years, her work has been published in hundreds of international magazines, including Vogue, Glamour, Marie Claire, Cosmopolitan and Harper's Bazaar. In 2009, she began self-publishing her work in order to maintain a stronger personal vision and explore her work in greater depth. She launched publishing company Untitled Media, and it's first title, multimedia publication XXXX Magazine, which was comprised entirely of original short films. In 2011 she launched the globally distributed print publication, The Untitled Magazine. Her work has been exhibited internationally at many art galleries, museums and festivals, including The Metropolitan Museum of Art, Getty Images Gallery, San Diego Museum of Contemporary Art, French Embassy Cultural Center, Cannes Film festival and the International Festival Photo Mode to name a few. In 2014, her public art sculpture, "The Egg of Light" was exhibited at Rockefeller Center. Cesarine lives and works in Tribeca, New York.
Jennifer Caviola aka Cake
Artist Jennifer Caviola aka CAKE over the past ten years has made a name for herself as one of the most prominent female street artists. Aside from being widely exhibited in galleries, she has had installations in NYC, Berlin, Chicago, Miami, Iran, and many more around the US. Her recognizable style, which features figurative portraits of women, has been widely documented and has gained her praise from art critics and fans alike. She has become known for her acrylics on paper which are either wheatpasted or painted directly on walls around the city, as well as her acrylics on wood which are beautifully haunting and feminine. Her work expresses her support of women through a voice of solidarity. A graduate of Pratt Institute (BFA in Painting) and Parsons School of Design (MFA), Cake's works have been exhibited at numerous galleries and exhibitions, including a solo show at The Untitled Space in July 2015, "Allegories Of The Held," as well as public works such as The Gateway Project's Mural in Newark Penn Station "Cast the Burden and the Light Will Impress".
Jessica Lichtenstein
Using the female body as a mechanism to explore deeper themes of power, female representation, fetishism and objectification, usually in an ironic and cheerful way, Lichtenstein's work embodies the very paradox she is trying to explore. Her work consciously plays with the boundaries of power, commercialization, consumerism, fantasy and propriety, provoking tensions that challenge the viewer to confront his or her own gaze. Through her images, Lichtenstein provokes the viewer to confront their own reactions to these hypersexualized images-whether it be feelings of shock, disgust, power, vulnerability, shame or lust-asking the viewer to decide what they are comfortable with, and why?
Lichtenstein's work explores both the commodification of the female body while simultaneously examining how these forms change in the public vs. private realms. The viewer is asked to engage with and question whether her hyper-sexualized women are depicted solely to satisfy an insatiable male-dominated gaze, or alternatively the complex nature of women and their desire to enjoy their sexuality, enjoy their bodies and their desire to be desirable.
Langdon Graves
In her drawings and sculptures, Langdon Graves depicts disembodied parts of the human form, homing in on eyes, ears, and teeth, and manipulating them with meticulous technical skill. She introduces unusual qualities, such as bees teeming around a pair of hands, or sculptures in which imagined domestic objects are imbued with corporeal innards. For Graves, her objects and drawings are steeped in folk traditions and mysticism, and interrogate the construction of reality and beliefs. "The work on the whole seeks to reveal that a reality constructed by our beliefs and one determined by actual events are one and the same," she has said.
Mari Kim
Mari Kim entered the art world from a background in design, having studied animation at the master's level and multimedia as an undergraduate at RMIT University in Melbourne, Australia. Mari's artwork is heavily informed by her training in animation. She incorporates bright colours and bold lines to create simplified and idealized figures. Most of her works depict young women and many include fairy tale or other popular characters. In Mari's characters, or "eye dolls," the eyes encompass a world of their own; when studied, intricate patterns reveal themselves so that the viewer feels he/she is looking through the lens of a kaleidoscope. Sometimes, the women have been violated and are shown with cuts or stitched lips. Mari's citation of American horror films as an influence accounts for the dark twist on these otherwise cute feminine figures. Mari has exhibited her work internationally at many galleries and museums, and it is part of the permanent collections of the Seoul Museum of Art and the Gyeongnam Art Museum.
Natalie White
Artist Natalie White got her start at seventeen years old after being discovered at a New York City nightclub by legendary photographer Peter Beard, who was 75 at the time. "I grew up in the Bible Belt in West Virginia," she explained. "At 16 I just wanted to break free." She quickly became one of Beard's muses, which led to posing for numerous contemporary artists and photographers including Michael Dweck, Jan Frank, Olivier Zahm and Sean Lennon. An an artist, she explores her own identity through the lens, with giant self-portrait polaroids, as well as painting and performance art. Exhibits of her work have included an entire exhibited dedicated to artwork with her as muse, including numerous self portraits at Rox Gallery as well a recent performance art installation at The Hole Gallery, Natalie White For Equal Rights.
Robyn Hasty
Robyn Hasty is a multi-disciplinary artist working in photography, printmaking and sculpture. She was introduced to Wet-Plate Collodion in 2010 during a workshop with Joni Sternbach without having any prior photography experience. Hasty fell in love with the process and within 4 months of the workshop she was traveling across the U.S., taking portraits of people living off-the-grid for a project titled "Homeland".
Since 2010 her collodion work has been featured on NPR and published in various international publications including Style and the Family Tunes (Berlin), La Mono (Spain), Little White Lies (London). She recently exhibited her work in a solo show at Pioneer Works in Brooklyn, New York.
Sophia Wallace
Sophia Wallace is an American conceptual artist and photographer. Wallace incorporates the use of images, video, and mixed media in her work in an effort to explore alterity, the study of otherness and the focus on dismantling the concept of sameness. She examines how the visual has an impact on gender and sexuality with what she calls the "racialized body." Wallace additionally explores in her work the relinquishment of gender norms and stereotypes. The Brooklyn-based mixed-media artist began making waves after spearheading her now widely-acknowledged, highly controversial "Cliteracy" movement – a revolution unto itself, in which she seeks to educate the public through installation art referencing the fantastically-neglected female sexual anatomy.
Tatyana Murray
British artist Tatyana Murray creates mixed media sculptures, drawings, and etched glass light boxes which revolve around themes of nature, animals and reflections on the human social condition. The self-taught artist uses her imagination and intuition to play a significant role in the development of her artistic vision. A consistent theme throughout Murray's work is questioning the role of authority. She explores the human conflict to harness and take advantage of nature. The duality of life also plays a significant role; mortality, loss of innocence contrasting with re-birth and the cyclical seasons of life. Her work has been widely exhibited, including at Bosi Contemporary Gallery, Tripoli Gallery of Contemporary Art, The National Arts Club, Blains Gallery, I-20 Gallery, Phoenix Gallery, and The 2014 Faberge Big Egg Hunt. Born in London in 1973, she lives and works in New York.
Vexta
Vexta is a self-taught street artist from Sydney Australia with a bohemian heritage. Her bold and extravagant artworks have invaded our visual landscape from Melbourne to Mexico and everywhere in between. Viewing the world through her psychedelic kaleidoscope, Vexta reinterprets the sacred elements within science, cosmology, mythology, life/death and the feminine – navigating these themes through the common threads that bind our experiences. The traditional totems of non-western culture have since become her inspiration to describe what it is to exist in the contemporary world. Juxtaposing animals and human forms amid her symbolic, geometric shards, she provides an insight into our fundamental engagement with the human condition. Currently based in Brooklyn, NY, Vexta spreads her vision across the continents, studios and streets, balancing exhibitions, commissions and creative ventures alike. She has exhibited extensively across Australia, Europe and North America, including The National Gallery of Australia.
Zana Briski
Zana Briski is an Academy Award-winning director and artist who transports her viewer into unseen worlds through photography, film and design. Led by passion and intuition, Zana has travelled to over 70 countries. She spent ten years on her project in the brothels of Calcutta where she photographed, filmed and taught photography to the children of prostitutes. Her film "Born into Brothels," won an Academy Award, an Emmy and 30 other awards. She founded "Kids with Cameras," a non-profit organization which strives to transform the lives of marginalized children through learning the art of photography. Zana's deepest love is the earth and her creatures. Zana has spent the past ten years photographing and filming insects in the wild, including the praying mantis. Zana splits her time between New York and camping alone in wild places.