THE LOST WARHOLS by Karen Bystedt
An online exhibition of works by Karen Bystedt
Presented by The Untitled Space Exclusively on Artsy
Launching October 4, 2018
View Exhibition

The Untitled Space is pleased to present "The Lost Warhols" an exhibition of works by artist Karen Bystedt created in collaboration with a number of contemporary artists including Peter Tunney, Jeremy Penn, and Raul33 among many others. The exhibition will launch on October 4, 2018, exclusively on Artsy.
In 1982, Karen Bystedt, then a tenacious young film student, cold-called Andy Warhol at Interview Magazine and asked he pose for her book-in-progress featuring the era's top male models. She had come across an image of the legendary artist modeling for Barney's and hoped to capture the icon in this unique context, positioned amongst faces renowned for their aesthetic ideal; she endeavored to preserve an image of the man made infamous for making models as a model himself. Warhol asked Bystedt whom else she intended to include in this book, upon hearing her answers, he swiftly agreed to join the fold. The resulting images materialize a rare and remarkable sense of vulnerability; in this portrait session, Bystedt captures a soft and submissive Warhol, a man who spoke much of beauty, and its essential mystery, and as is suggested in his rigid pose, his bewildering gaze, and simply, his participation in her project, seemingly so wanted to be seen as beautiful himself.
Bystedt included two of the thirty-six photos shot that afternoon in her book "Not Just Another Pretty Face" published by NAL, and placed the negatives in storage, where they lived untouched for twenty-five years. The movements of an artist are so often mysterious to the artist themselves, as if a mystical wind directed the creative spirit, engulfing cerebral elements and ineffable impulses in its power. In 2011, Bystedt felt firmly compelled to revisit her representations of Andy and unearth the images captured that afternoon. She was able to locate ten of her original negatives, yet time and its offspring, reality, had taken its toll on her spellbinding photographs. She dedicated the preceding four months to restoring her Andy, pixel-by-pixel, infusing new life, breath by breath, into her images.

Having turned from photographer to visionary pioneer in the mixed media form, Bystedt conceptualized a new future for her Warhol portraits, one that echoed her subject's inventive spirit, and mirrored his approach to both inspiration and practical creation. Giving form to a modern, immaterial Factory of her own, Bystedt invited contemporary artists to interpret her images in their own artistic language, co-creating mixed media artwork, thus conceptualizing a series of collaborations that would represent community and pay homage to the mixed media form so inextricably associated with the legacy of Warhol. Over the last five years, this canon has developed and expanded; the work is definitively diverse, representing an eclectic array of artistic identities, thus promoting inclusion whilst positioning fine art in the realm of the accessible with which Warhol himself toyed.
"The Lost Warhols" live as a testament to intrinsic value of eclecticism in visual perspective, honoring individuality in interpretation, allowing the self to shine in position as part of a greater whole, as Warhol once did and forever will, in Bystedt's book. Bystedt has created a series that follows in Warhol's footsteps, playing with popular culture; the collection champions the unique signatures of her collaborators and encourages its audience to consider their own understanding of its central subject—a man captured by a woman; two unique artists, both fascinated by beauty, and determined to stir an evaluation of its ever-changing parameters and visual associations. The work thereby provides the world with a new lens with which to examine the legacy of Andy Warhol and re-evaluate the aesthetic ideal, thus challenging the modes in which it may be measured and questioning its intrinsic value itself." – Words by Samantha Michelle
Karen Bystedt is an internationally acclaimed, highly prolific photographer and mixed media artist currently based in Los Angeles. She has published four photography books including Not Just Another Pretty Face (NAL, 1983), The New Breed (HOLT, 1989), Before They Were Famous (GPG, 1994) and They Dared To Dream (OSLO PROD, 1998). She has photographed film stars and rock and roll icons such as Slash, Johnny Depp, Brad Pitt, Drew Barrymore, Eddie Van Halen, and Jon Bon Jovi. Her work is exhibited in museums across the globe including The Andy Warhol Museum in Pittsburg, The Astrup Fearnley Museum of Modern Art in Oslo, and The Armenian Museum of Modern Art. Her images have appeared in dozens of publications including Italian Vogue, Vanity Fair, Connoisseur Magazine, The Peninsula Magazine, Fabrik, InStyle and People. Her work has exhibited and sold at Scope Miami, Red Dot, Art Houston, LA Art Fair, Art Hamptons, and was recently exhibited at Port Authority in NYC.
Bystedt is firmly committed to supporting charitable organizations; her work has benefitted amFAR, Amber Lounge benefitting the Special Olympics, and the Venice Family Art Walk. She champions accessibility and brings much of her work to the street – open to unrestricted, unlimited view. Collaboration is a key element of Bystedt's current artistic approach; over the last four years, she has produced several murals in partnership with streets arts including Cryptik, Nick Flatt, Bisco Smith, Drew Merritt Ralph Ziman and Moncho1929 in Los Angeles, as well as Lee Washington and Chris Flore in Houston. In 2017, she produced her own mural Kings and Queens in Harlem, and a collaborative mural with Bradley Theodore in Soho. In 2018, she wheat-pasted her photographic series, Inclusion, on the streets of downtown LA; she is currently developing an exhibition of the photography collection. Bystedt continues to expand her mixed media approach, fusing photography and street art in her work as an individual, whilst forging and supporting artistic communities across the world, discovering and providing platforms for emerging talent, celebrating innovation, eclecticism, and above all – the expression of the self.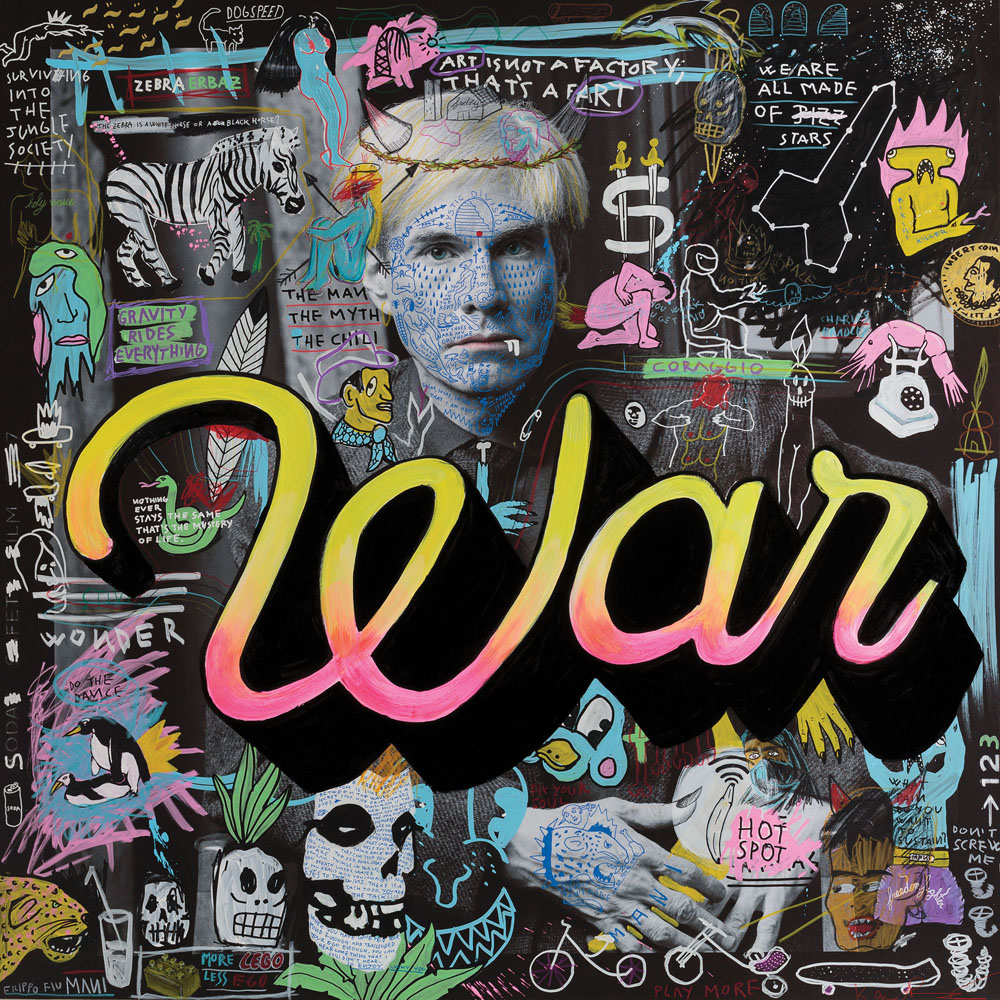 Collaborating Artists include:
Ashish aka ILOVEHASH, Benjamin Goetz, Chris Brown, Chris Saunders, Christopher Florentino, David Cavazos aka Big Sleeps, Dom Pattinson, Drew Merritt, Fiumani aka Filippo Fiumani, Gregory Siff, Jeremy Penn, John Moody aka Madman, Lee Washington, Moncho 1929, Nick Sider, Peter Tunney, Producer BDB, Ralph Ziman aka Afrika_47, Raul33, Ron Bass, Spencer Guiburt aka This Means Mar, Tamara Alves.
"The Lost Warhols" were recently exhibited in collaboration with non-profit God's Love We Deliver in New York City, and have been featured at The Andy Warhol Museum in Pittsburg, The Astrup Fearnley Museum of Modern Art in Oslo, and The Armenian Museum of Modern Art as well as SCOPE Art Basel Miami, Houston Art Fair and Art Hamptons. They are additionally in the private collections of a Prince Albert of Monaco, Hearst Foundation, Tommaso Buti, RETNA, Cleon Peterson, Iggy Azelia, George Lopez, David Caruso, Jason Weinberg, among many others.
---
For more information and press requests please contact us at info@untitled-space.com