Fahren Feingold x PEEP SHOW Pop Up
A Solo Show of Watercolors by Fahren Feingold
Presented by Fleur du Mal in collaboration with The Untitled Space
EXHIBITION ON VIEW
June 2nd – July 29th, 2018
175 Mott Street, NYC
Hours: 12pm – 7pm Daily

The Untitled Space is pleased to announce a solo show of works by artist Fahren Feingold presented in collaboration with Fleur du Mal. From June 2nd to July 29th, 2018, Feingold's watercolors will be on display at their pop-up gallery, "The Peep Show" located at 175 Mott Street in the Lower East Side of Manhattan. There will be a special event on June 7th celebrating the exhibition.
"The Peep Show" will present original watercolors by Fahren Feingold, whose works feature bold feminine nudes that reference imagery from early 20th century French erotica, vintage American magazines from the 70s and 80s and today's Internet girls. The Los Angeles native moved to New York at the age of seventeen to study at the Parsons School of Design. After earning her BFA between Parsons and Glasgow School of Art, she worked as a fashion designer for top brands including Ralph Lauren, Nicole Miller and J.Crew, among others. In 2016, her dreamy watercolors caught the eye of the legendary Nick Knight, who commissioned her to illustrate Paris Fashion Week for SHOWStudio.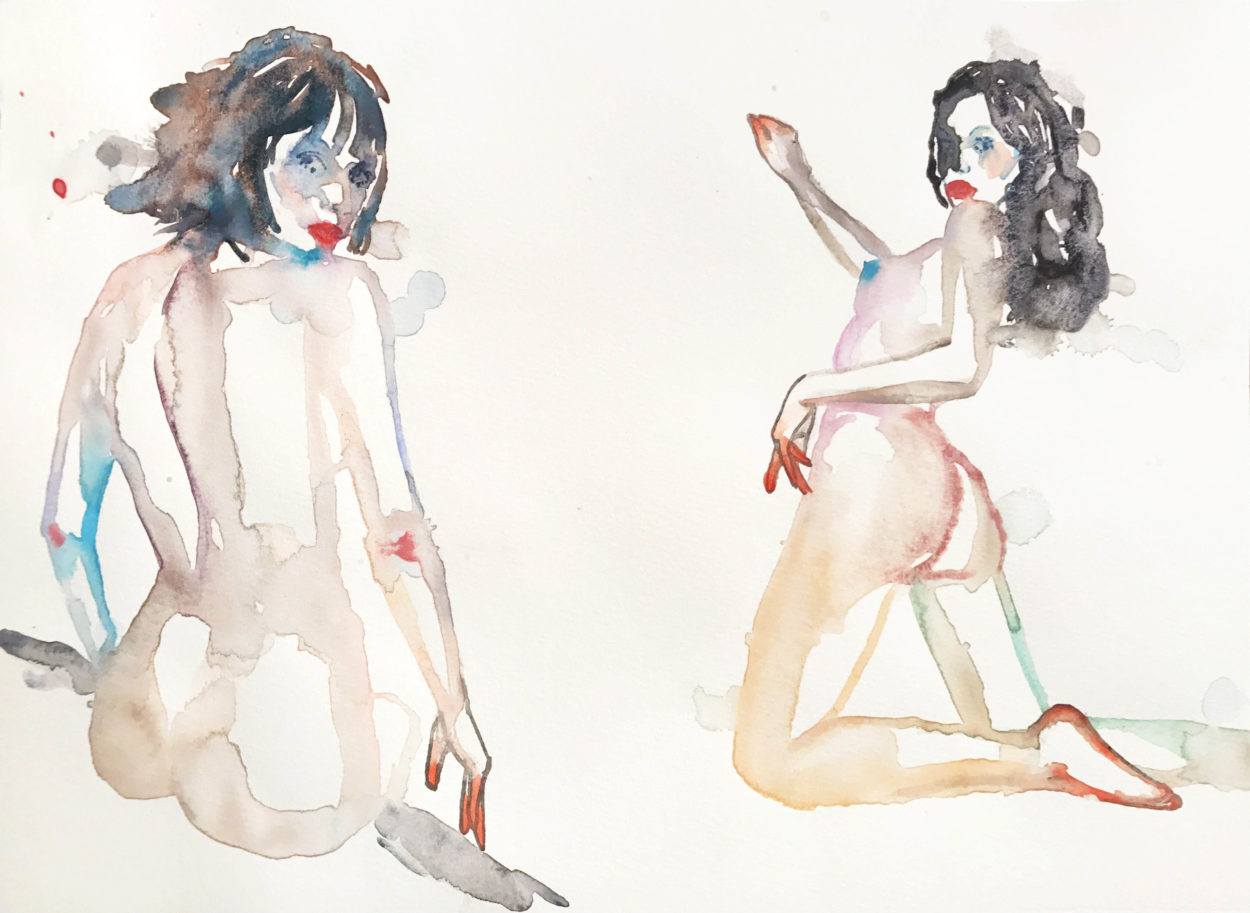 Touted as "a trailblazing artist on a meteoric rise" by Vogue Arabia, her watercolors have steadily gained recognition from collectors and critics alike for their sensitive, dreamlike colors, graceful brush stokes and rendition of the female nude. Vice Creators praised her work, stating, "Feingold's watercolors appear to swim on paper. Her figures bloom and radiate with ethereal energy, and the occasional splash of bright colors imbues them with life." V Magazine noted her as a "particular standout" while the Huffington Post said, "Fahren Feingold captures the space where the ethereal meets the erotic…Her artwork is an attempt to undo the centuries of censorship, shaming and patriarchal politics that clouds the simple beauty of a naked body." Through her erotic depictions, Feingold gives new voices to women of the past and present while exploring larger notions of female constructs in contemporary society. Her palette of bright pastels and soft colors invites the viewer to step inside her dreamlike erotic world.
Feingold's work has been featured in numerous international exhibitions including her recent solo show at The Untitled Space gallery in September 2017, as well as "Moving Kate," curated by Nick Knight for SHOWStudio in London and The Mass in Tokyo; "The Vulgar" at The Barbican in London, curated by Judith Clark and Adam Phillips and "Red Hot Wicked" at Studio C Gallery in Los Angeles. Her work has additionally been featured in The Untitled Space group shows "ONE YEAR OF RESISTANCE", "UPRISE / ANGRY WOMEN", "SECRET GARDEN", "LIFEFORCE" and SPRING/BREAK Art Show during Armory Week 2018 as part of the critically acclaimed "(Hotel) XX" installation and exhibition.

ABOUT FLEUR DU MAL
Fleur du Mal is known for its refined yet provocative collections of lingerie and ready-to-wear that interpret the notions of dressing up and undressing for the chic, contemporary woman. Founded in 2012 by Jennifer Zuccarini, the brand embodies a woman's strength, confidence, intellect and sexuality while exploring the notion of desire and artful provocation. Zuccarini's aesthetic for curating singular experiences surrounding intimacy began when she co-founded the luxury brand, Kiki de Montparnasse in 2005. As Creative Director she created a distinctively sensual collection of lingerie, ready-to-wear, and leather accessories.
Compelled to redefine the way women approach lingerie, Zuccarini founded her first independent venture with Fleur du Mal. Inspired by the infamous collection of poems by Charles Baudelaire "Les Fleurs de Mal," the collection encompasses sophisticated underpinnings and whimsical intimates as well as sensual separates and eveningwear.